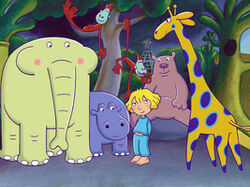 64 Zoo Lane was a Children's Television series which ran on CBBC and CBeebies from 1999 till 2009 and still runs on Nick Jr. to date.
It features a 9 year-old girl called Lucy who lives at 64 Zoo Lane, next door to a Zoo. Every night she is told a story by the animals present there. Characters include Georgina the Giraffe, Nelson the Elephant, Tickles and Giggles the Monkeys, and Molly the Hippopotamus.
The programme emphasises friendship and responsibility. After the story ends Lucy is normally asleep (certain episodes have her yawning then sleeping in bed, when she's asleep by the end of the normal episodes, she was lulled to sleep by the story), and Georgina puts her in bed. There are many opportunities for learning: exploring language and vocabulary are enhanced by the use of intonation and expression in the character's voices and the themes of the animals' stories support social and emotional issues, including friendships and helping and caring for others.